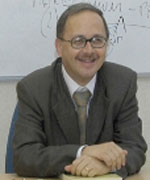 Università "Mediterranea" (Reggio Calabria)
Francesco MANGANARO is full professor of Administrative Law in Law Faculty of the Mediterranean University of the city of Reggio Calabria. He's Vice-Rector of the University of Reggio Calabria.
He has held research and teaching in Sorbonne University, in Paris and Santiago de Compostela.
He's Scientific coordinator of research programs of national interest, and he's external evaluation of Committee for Research Evaluation of University Ministry. He's member of the College of PhDs teachers based in Catania and Bari and Director of second level Masters.
He's Co-director of book series "Percorsi di Diritto amministrativo". He's member of the Scientific Committee of various journals, including Diritto Amministrativo e Diritto e processo amministrativo.
He's author of numerous books and publications, specifically, on good faith in administrative law, participation in administrative procedures, accountability of public administration, functions of local authorities and European Convention on Human Rights (ECHR).